New Foundation Kick Off Event
August 12, 2022 @ 6:00 pm

-

9:00 pm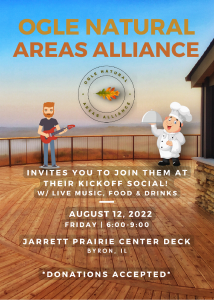 Hello Friends,
We are excited to announce…
Ogle Natural Areas Alliance is a 501(c)(3) local charity recently established by residents of the Byron Forest Preserve District.  This Foundation is a non-profit public organization designed to benefit the Byron Forest Preserve and other local public land holding agencies through charity, stewardship and education.
Everyone is invited to the kickoff social event on Friday, August 12th, 2022, at 6PM on the Jarrett Prairie Center Deck overlooking the scenic Jarrett Prairie Preserve, located at 7993 North River Road in Byron, Illinois.
There will be live music, hors d'oeuvres and a cash bar.  This event is free and we hope to spread the word about our mission to serve and benefit local public land holding agencies.  If you are unable to make it to the event, we would still appreciate your support in any way. We are looking for in-kind donations and monetary donations to help get our Alliance off the ground and operating.
For more information about our event please visit our event page:  https://www.oglenaturalareasalliance.org/events
If you would like to make a donation online please visit our donation page:  https://www.oglenaturalareasalliance.org/donate
We appreciate your time and support.