30th Annual Gold Medal Classic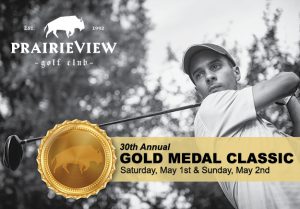 Get your golf season going in the 30th Annual Gold Medal Classic!  This two-day, 36-hole event will test your skills on a challenging course with plenty of great competition.
Saturday, May 1st and Sunday, May 2nd
Thanks to all the participants in the field at the Gold Medal Classic!
We had a great weekend of competition and look forward to next year!
Congratulations to the winners of each flight…
MEN'S CHAMPIONSHIP FLIGHT
Robert Dofflemyer III
MEN'S FLIGHT 1
Mike Morig
MEN'S Flight 2
James Keck
SENIOR FLIGHT
Terry French
WOMEN'S FLIGHT
Megan Thiravong
FULL EVENT DETAILS…
TOURNAMENT FEES
Entry Fee:  $110 per participant ($70 PV pass holder)
Entry fee includes 36-hole green fees, tournament prizes, range balls, and tee prize.  Entry fee due at time of registration and may be paid in the Pro Shop or with a credit card by phone – (815)234-4653 ext. 3.
Cart Use: $32 ($16 per day) – Cart use can be paid the day of the tournament.
FORMAT/ELIGIBILITY
36-hole medal play at scratch (handicaps not applied).
Flights will be determined after Saturday rounds are completed.
Open to all amateur golfers age 15 and older.
ENTRY DEADLINE – 5:00pm on Wednesday April 28th
PAIRINGS/STARTING TIMES
Entrants may choose one other player to be paired with on the first day.
Pairings for the final round are determined by reverse order of 1st round scores (lower scores tee off last).
SATURDAY STARTING TIMES – available after 5:00pm on Thursday April 29th
FLIGHTS/FLIGHTING
6 total flights: Men's Championship, A, B, C, Women and Senior Men. Seniors are ages 60+
PrairieView GC reserves the right to add or delete the number of flights based on the total number of entries and to make all pairings.
Maximum entries: 120
Seniors are eligible to compete in the open division. Players must declare which division they will compete in on the entry form.
PRIZES – Payouts based on number of participants.
Prizes awarded on 36-hole total gross score within flights.
Equal prizes are awarded in all flights with the exception of the Overall Tournament Champion.
A minimum of three places per flight and maximum of eight based on full field.
Each contestant will receive a tournament tee prize.
TOURNAMENT POLICIES (abbreviated)
Participants must check in/register 30 minutes prior to starting times.
Participants will be expected to conduct themselves in an appropriate manner.
Proper attire is required of all participants; soft spikes are mandatory.
USGA rules of golf, as modified by local rules, will apply.
Caddies and spectators are permitted.
If you have questions regarding starting times, pairings, distribution of prizes, etc., please call PrairieView Golf Club at (815) 234-4653 ext. 3